Parents
Welcome parents to your section of the website!
Hopefully we can answer most of the questions that you have here, but feel free to contact the office in person or by phone if it doesn't.
Use the buttons below to navigate to other interesting parent sections of the site you wish to visit including the School Newsletters Page.
If you have any concerns or complaints and wish to speak to the most appropriate person in school, please look at the documents further down this page...
We also have an interesting link to follow from the NSPCC that could help bring up an important yet awkward discussion with your children about how their body belongs to them and they should tell an adult if they're upset or worried.
https://www.nspcc.org.uk/preventing-abuse/keeping-children-safe/underwear-rule/
Parent Support Resources for Self-Esteem
Dove also have resources to support parents in developing self-esteem in their children.
More information: https://www.dove.com/uk/dove-self-esteem-project/help-for-parents.html

Our safeguarding section contains more information about how we keep your children safe, anti-bullying information, youtube safety as well as containing support with discipline at home.
Terms 2,3 & 4 School Lunches: click to zoom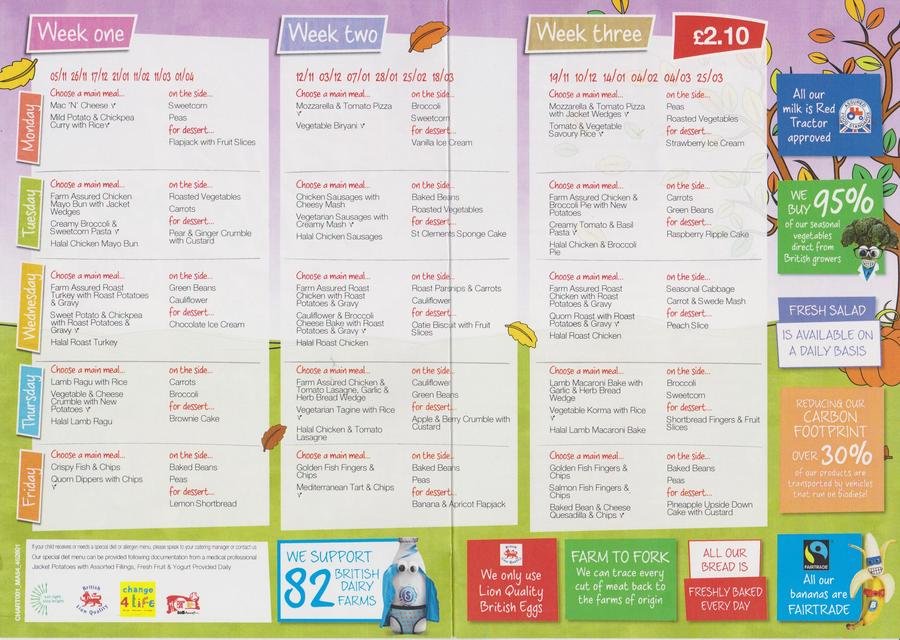 NEW MENU NEW MENU NEW MENU NEW MENU
Jigsaw PSHE
Once again we have been implementing the PSHE (Personal, Social and Health Education) Programme across our school called 'Jigsaw, the mindful approach to PSHE'.
The Summer Term units are about Relationships and Changing Me. The Changing Me Puzzle includes, in every year group, two or three lessons to help children understand the changes puberty brings and how human reproduction happens.
All of the presentations from the Changing Me parents' meetings as well as the overviews for each year groups are available to download below.
| Name | |
| --- | --- |
| RSE-Guide-for-Parents-and-Carers-leaflet-2018.pdf | Download |
| SRE Books for parents.pdf | Download |
| Year 1&2 SRE presentation for parents.ppt | Download |
| Year 3 SRE presentation for parents.ppt | Download |
| Year 4 SRE presentation for parents.ppt | Download |
| Year 5 SRE presentation for parents.ppt | Download |
| Year 6 SRE presentation for parents.ppt | Download |
| Year-1-Overviews.pdf | Download |
| Year-2-Overviews.pdf | Download |
| Year-3-Overviews.pdf | Download |
What to do if you have a concern or complaint?
Find us, tell us
We would like you to tell us about it. We welcome suggestions for improving our work in school. Be assured that no matter what you are wanting to tell us, our support and respect for you and your child in school will not be affected in any way. Please tell us of your concern as soon as possible. It is difficult for us to investigate properly an incident or problem that happened some time ago.
What to do first
Most concerns and complaints can be sorted out quickly by speaking with your child's class teacher, year group leader, or a member of the leadership team, several of whom are always outside at the front of the school at the beginning and end of the school day (please see attached organisation chart).
If you're unsure about what to do, just ask; any teacher, support staff, administrative staff or leadership team member can put you in contact with the right person, based on the nature of your enquiry or concern.
If you have a complaint that you feel is enough of a concern to be looked at by the Deputy Headteachers (Mrs Paton – Early Years & Key Stage 1; Mr Almond – Key Stage 2) in the first instance, you can contact them straight away if you prefer.
However, if you decide it is a serious concern, you can of course speak directly to the Acting Headteacher (Mrs De N'Yeurt). It is usually best to discuss the problem face to face. You may need an appointment to do this, and can make one by ringing or calling into the school office. You can take a friend or relative to the appointment with you if you would like to.
All staff will make every effort to resolve your problem informally. They will make sure that they understand what you feel went wrong and they will explain their own actions to you. They will ask what you would like the school to do to put things right. Of course, this does not mean that in every case they will come round to your point of view, but it will help both you and the school to understand both sides of the issue. It may also help to prevent a similar problem arising again.
What to do next
If you are not satisfied with the teacher's initial response to your questions or concerns, you can raise this concern with the year group leader, middle leaders or the Deputy Headteachers and then the Headteacher, as the attached organisational chart shows. They will ask to meet you to discuss the problem. Again you may take a friend or someone else with you if you wish. The Deputy Headteacher or Headteacher will conduct a full investigation of the complaint and may interview any members of staff or pupils involved. You will receive a written response to your complaint.
If your complaint is about an action of the Headteacher personally, then you should refer it to the Chair of Governors. You can contact him by letter sent into the school office, clearly marked for the attention of the Chair of May Park Primary School Governing Body, Mr Kevin Hussey. He will instruct further investigation. You will receive a written response to your complaint.
If you are still unhappy
The problem will normally be solved before it reaches this stage. However, if you are still not satisfied you may wish to contact the Chair of the Governing Body to ask for a referral of your complaint to a Governors' Complaints Panel. It will then be heard by a group of three governors who have no previous knowledge of the problem and so will be given a fresh assessment. You will be invited to attend and speak to the panel at a meeting that the Headteacher will also attend. The School Complaints Procedures explains how these meetings operate (copies available online or from the school office).
Further Action
Complaints about school problems are almost always settled within schools but in exceptional cases it may be possible to refer the problem to an outside body such as the Secretary of State for Education.
Again there are more details about this in the School Complaints Procedure
Parent Pay:
ParentPay is now used throughout the school. No more trying to find cash or the cheque book in the morning. Pay for school meals, trips and other items online. Ask the office for more information/
The following map was created by Year 5 and 6 student of May Park- walking from the gates of the school in different directions for exactly 5 minutes. Use it to help plan where to park in order to get a five minute walk to school and avoid the worst of the traffic!
A series of incidents that have begun outside the school hae led us to review our E-Safety policy and offer guidance to parents who are not comfortable with the children's access to the online world. We have a new page you can visit below, ask at the office for a paper copy of the quick guide or speak to a member of staff for any help you may require.
Admissions:
To find out about the schools admissions arrangements through Bristol City Council follow this link:
http://www.bristol.gov.uk/page/children-and-young-people/school-admissions
For Nursery applications please collect an application form from the school office or download from the link below. NOTE: All applications must be supported by an original birth certificate.