Class Teachers
Ms Philippa Gardner
Ms Wendy Clay
Support Staff
Ms Joanna Gates
Ms Nusrat Mohammed
May Park has a lovely well-resourced Nursery class that can accommodate up to fifty 3 to 4 year olds:
26 in the morning session - 8.50am - 11.50am, 24 in the afternoon session - 12.30 - 3.30pm.
Our Nursery entitlement is provided as 3 hour sessions, five days a week. This year we are also able to offer some 2½ day places.
Our Nursery class children have access to a high quality, play based learning environment organised into workshop areas. The large secure garden and school woodland facilitate wonderful outdoor play opportunities all year round.
Currently the Nursery has an excellent staffing ratio of 1 adult to 8 children and the key workers are highly skilled and experienced professionals.
The Nursery sessions have a supportive routine which includes opportunities for children to work alone or with others, in child initiated or adult supported play. Children plan their own learning and make choices about what they want to investigate. Staff encourage children to problem solve and reflect on their learning experiences.
The Nursery staff also implement Building Learning Power (BLP). This is an approach centered on cultivating "aptitudes" for life-long learning. We aim to encourage children to be resilient, resourceful in their approach to solving problems and to be reflective about their learning. Children can begin to see themselves as learners, and begin to understand that everyone is constantly learning, even adults!
On going records are kept of children's learning journey; these are shared with parents regularly. We also benefit from being part of the wider "May Park Community" Many of our children move on to the Reception classes, and have siblings in the school.
The first term in Nursery September 2019
During their first term in Nursery children have been exploring the environment, having lots of exciting new experiences, and getting to know new friends and staff, especially their key worker. They have been selecting their own resources and learning where to put them away. Learning to hang up their own coats, find their own folder to put pictures away, share resources etc. Gradually the routine has been introduced, starting the day with a circle time and small group time and ending with story time.
First visits to the woods Oct'17
This month the children have been visiting May Park woods for the first time, exploring, scrunching through autumn leaves, looking for birds squirrels, cats etc, and climbing on the trim trail.
We have been exploring a selection of pumpkins, counting them, sorting them by size and type, and trying to lift the biggest ones which were very heavy!
Do you need a new pair of shoes or boots? We have a very popular shoe shop in the Nursery, there are lots bargains to be had! The children will measure your feet and find you the correct sized shoes, put them in a box and find you a bag to carry them home in. We have boots and shoes for walking and running in, high heeled party and princess shoes and even a very smart pair of football boots. We have two tills, so you never have a long wait to pay.
Farewell to
Bernadette Foster-Grundy
24-1-18
On Wednesday we said goodbye to Bernadette Foster-Grundy as she retired after an amazing 30 years leading the Nursery class at May Park. There are even a few parents at the school who were taught by her!
In the Nursery we had a tea party for the children and Bernadette presented each child with a large envelope containing a book from her extensive collection of children's books.
After school there was a party, attended by staff past and present. The plan had been to hold the party around a fire in the school woodland, which Bernadette helped to plant with the children over 20 years ago. However the weather defeated us and instead it was held in the hall, still lit with lanterns and fairy lights, and around a fake fire. She was presented with a rowan tree, an amphora pot and £230 worth of garden vouchers to spend on the garden in her new house. Thank you to everyone who contributed so generously, parents and staff, past and present. We will all miss you Bernadette!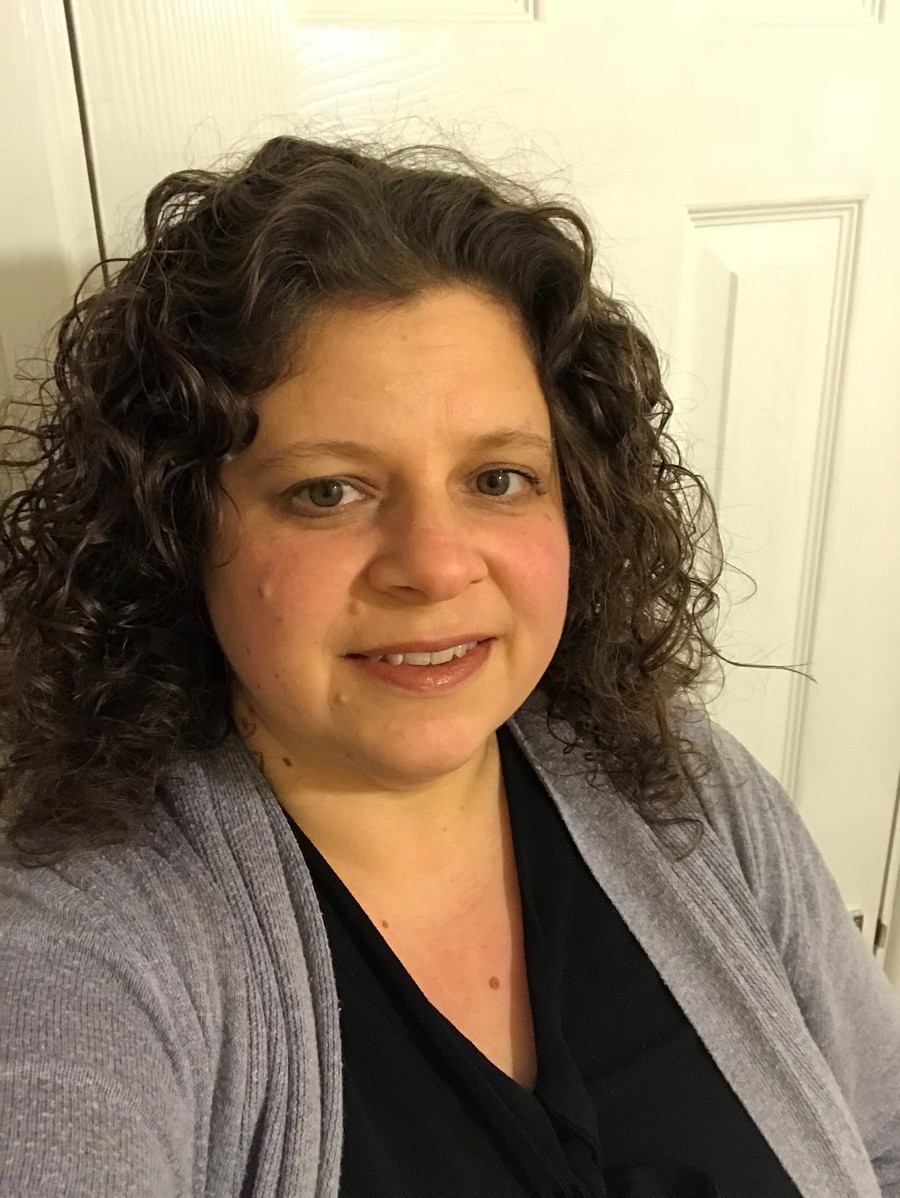 Welcome to Wendy Clay who has joined the Nursery team, having taught at May Park for many years.
The Hairdresser's - March
Do you fancy a new hair style? This is the place to go. Lots of interesting styles to choose from!
We borrowed the giant scales from the Reception classes to weigh bricks in the garden, and used a variety of different scales to weigh natural resources in the classroom (stones, shells, pine cones etc.) We have been using vocabulary such as "heavy, light, heaviest, lightest, more, big, small, large...." and doing lots of counting.
We have been celebrating St George's day in the Nursery by dressing up as knights, dragon and princesses, acting out the story of George and the dragon, making crowns, flags, swords and shields, building castles and doing lots of red and white activities.
This term we have been exploring what happens when you mix different colours together, using powder paint and water. The children have been mixing some very beautiful colours to paint with.
Royal wedding party 18-5-18
The bunting and flags were out today as we had great fun celebrating tomorrow's wedding of Prince Harry to Meghan Markle. Children decorated crowns made their own flags, and prepared their own sandwiches for the party, after a day of dressing up, playing with red, white and blue themed activities, and small world castles. Stories this week have been about about Princes, Princesses, Kings and Queens, palaces, castles and weddings.
This term the children have been practicing using a variety of tools and materials to construct junk models, fixing them with tape, glue and stickers. Many children constructed with a purpose in mind, selecting tools and techniques needed to shape, assemble and join their materials.
Caterpillars and butterflies
25-6-18
There was great excitement this week as our caterpillars turned into butterflies.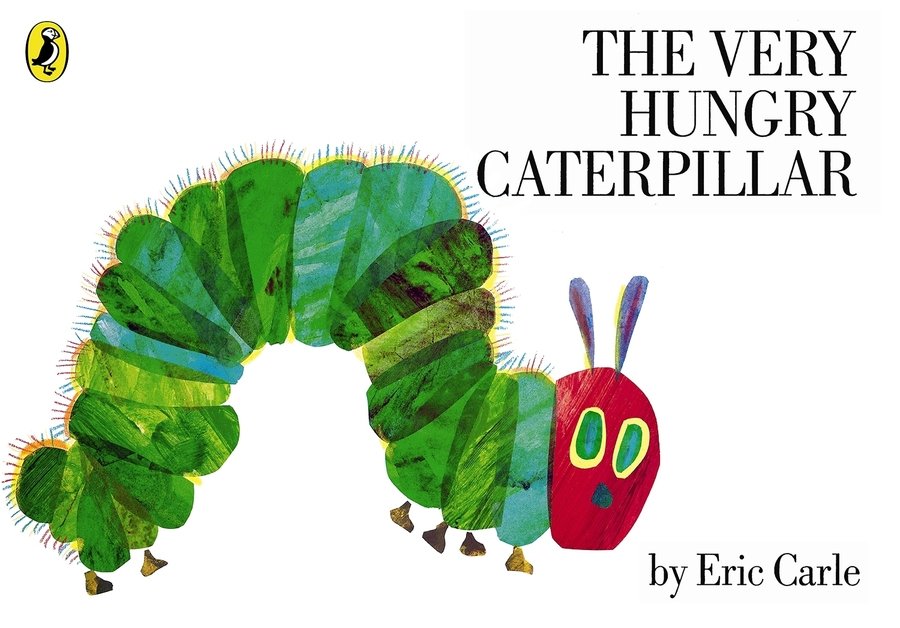 We have been reading the story of the hungry caterpillar by Eric Carle.
To see us waving goodbye to a butterfly click on the video above.
Diwali celebrations October
In the Nursery we have been celebrating Diwali, the Sikh and Hindu festival of light. We acted out the story of Rama and Sita with puppets and have been exploring light with candles, torches and a huge light box. We made rangoli patterns with chalk, wrote Diwali cards, sorted bangles, and dressed up. Nusrat put mehndi patterns on our hands and we had party food and dancing.
Happy Diwali to all those celebrating Diwali this week.
This term there is a whole school focus on stories. These are some of our favourite books this term.
This month we started going to the hall for PE on Wednesdays. We have been practicing our ball skills, and putting our own shoes and socks on afterwards.
All the children in the Nursery joined together today for a Christmas party. We played traditional party games such as pass the parcel, the hokey cokey etc, and we had a visit from Father Christmas. The children had the opportunity to shake hands with and talk to Father Christmas and we sang him Christmas songs. He brought a gift for the class containing a large helicopter toy. There was lots of lovely food donated by parents, and everybody went home with a balloon.
Happy Christmas to all those celebrating next weekend.
Click above to hear the children singing one of their songs to Father Christmas.
This term during PE, we having been practicing our climbing, on the apparatus in the hall. We have been finding different ways to move, such as slithering, shuffling, crawling, sliding, hopping, rolling, and jumping.
PE is every Wednesday. Please send your child to school wearing leggings or jogging trousers.
You can help by encouraging your child to dress themselves independently at home, especially putting on socks, shoes and jumpers. Thank you.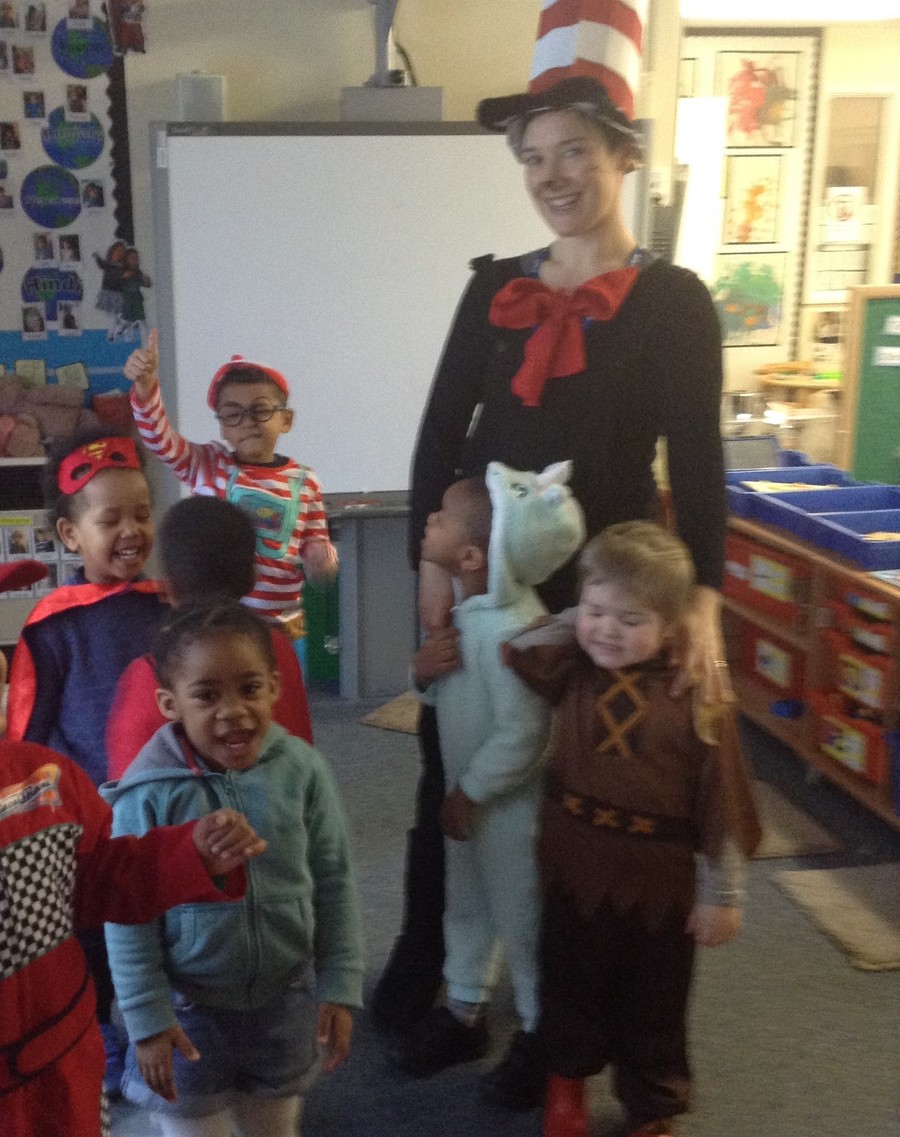 Today it was world book day. Children came to school dressed as characters from books, ready to do lots of story themed activities, but then it started to snow!......
We have been watching birds building nests in the Nursery garden. For Easter we made chocolate nests out of rice krispies and melted chocolate, imagining that the chocolate was mud to stick the rice krispie "sticks" together. Each nest had 4 mini eggs in it. We also made Easter baskets to carry the nests home in.
We ended the term with Easter egg hunts in the garden. Children hunted for over 100 tiny covered chocolate eggs and found almost all of them! The eggs were hidden in trees, holes in the walls etc so children had to look very carefully. When they found an egg the children rushed to put it back in the basket. When the basket was full we took the eggs into the classroom to share out and eat!
Happy Easter to all those celebrating Easter
We had great fun dancing around a maypole during our PE lesson this week. We danced round and back, in and out, practicing skipping.
(click below to watch a short video)
We have been learning all about eggs and which animals hatch out of them. We have had some hen's eggs in our incubator, keeping them warm for the mummy hen, while she stays at the farm with egg man John. There was great excitement as the chicks began to hatch out. First out was Rachel, a yellow chick with black marks on her head. Next was Cheepy, an all yellow chick. Then Rosie, a dark coloured chick burst out of her egg at circle time in the morning, with all the children watching. I wonder which egg will hatch next.
We have been learning about Ramadan and Eid in the Nursery, looking for the "banana moon" (crescent moon) in stories, and watching videos about children celebrating Eid. On Wednesday as it was the last day that all the Nursery children would be in before Eid, we had a party with food and dancing (imitating dance moves on the big screen and dancing with friends). We said "Eid Mubarak" to everybody who was celebrating Eid at the weekend.
We have been growing fruit and vegetables in the Nursery; potatoes, strawberries, cucumbers, lettuces, radishes, beans and tomatoes. We also have apple, plum and pear trees.
This week our potatoes were ready to dig up. we looked at the roots, found potatoes of different sizes from very tiny to quite big and found lots of mini beasts hiding in the mud.
When we had found all the potatoes we scrubbed them clean, and the teachers cooked them for us. They were delicious!
Remembrance Day 11th November
We made playdough poppies and all sat in silence for a whole minute, watching a sand timer or covering our eyes and remembering all the people we love.
Children in need 17-11-17
Today we celebrated Children in need day by wearing yellow clothes to school and doing lots of yellow activities. We also brought donations for the Children in need charity.
Christmas activities - December
There have been lots of fun activities this month in the Nursery. We turned the discovery area into a stable, with animals and a huge bale of straw. The children all made and wrote in Christmas cards, played with Christmas themed small world toys (Santa, reindeer, sleighs and arctic animals). There was sparkly playdough, we decorated a real Christmas tree, searched for prickly holly in the woods and listened to lots of Christmas stories.
Every day we opened a door on our advent calender, learning lots of new vocabulary such as angel, bauble, wreath, holly etc, and we learned some new Christmas songs.
We filled tree shaped silicone moulds with bits from around the garden (sticks, leaves, flowers, sycamore seeds etc.) We filled them with water, put in a piece of string with the end hanging out, and placed them in the freezer overnight. In the morning we hung the trees in the garden and watched as they melted, dripping and sparkling in the sunshine. Some children caught the drips on their hands or tongues, some just watched or touched them, commenting on what they saw and felt, and returned throughout the session.
Chinese New Year - February 2018
The children in the Nursery have really enjoyed learning about Chinese New Year this week. We have made lucky red envelopes and put shiny coins in them, cooked noodles and tried to eat them with chopsticks and decorated our own chinese dragon. We walked around the nursery garden and KS1 in our dragon wishing everyone a happy new year.
"Kung Hei Fat Choy" 新年快乐
That means Happy New Year in Chinese
It will be the year of the dog.
If you would like to see some real Chinese Lion dancing, visit the local Chinese supermarket on 17th February. (See poster below)
As it is going to be the Chinese year of the dog, we have had a pet shop in the classroom, containing lots of animals, but especially dogs. The children made collars and leads for the dogs and took them for walks, they brushed and groomed the dogs to make them look and smell nice. They fed them and when they were ill, became vets, using the doctor's kits from upstairs to make them well again.
As part of the whole school focus on the STEM subjects this term (Science, Technology, Engineering & Maths), the children have been exploring magnets...
Goop (made from cornflour and water).
And ice, that had frozen in the trays outside, trapping all the bricks.
The children have also been using age appropriate technology, eg remote control cars, iPads, storyphones to listen to stories and songs, and computers.
And testing out their engineering skills using a variety of construction materials, in both the indoor and outdoor classrooms.
The annual Nursery sponsored bike ride and cake sale took place on 9th May, it was a very exciting day. Parents and the rest of the school lined the route cheering loudly. All of the nursery children came in the morning for the event, and many children brought their own bikes and scooters from home to ride. Later they all had the chance to ride the bikes again on the big playground, proudly showing their bikes to their friends.
Parents very kindly made and donated cakes for our cake sale, and we raised over £400 to buy new equipment for the nursery.
Thank you to all those who came to support the event, and helped to make it such a success.
This term we have been learning all about the minibeasts that live in our garden. We have been hunting for them under logs and stones, in our bug hotel and digging in the mud. We found worms, woodlice, beetles, ants, slugs and snails to name but a few. We examined them more closely with magnifying glasses and some children even held them!
Parents joined the Nursery children for a treasure hunt in the woods today, they had treasure maps and followed the correct coloured arrows until they found "X marks the spot" and their group's treasure chest containing a parcel full of books for each child, (in many cases dual text books in home languages) and of course chocolate coins! The children have spent the past couple of weeks playing pirate games, making their own maps, telescopes, eye patches etc, searching for treasure, writing X marks the spot, playing with small world pirate ships, exploring floating and sinking, singing pirate songs and listening to pirate stories.
We have been enjoying washing cars and bikes in the nursery over the last week. Adam wanted to learn to wash a big car for his next step on the learning ladder, so he went with some friends to wash Joanna's car in the car park. The children were very interested in the lights, number plate, wiper blades etc. Dexter wondered how we could reach the roof.