Workshops start again on Tuesday 7th November, we hope to see you there.
Foundation Stage Coffee morning / Workshops
These very popular weekly workshop with Hazel Bailey from Gloucester Reception class and Joanna Gates from the Nursery run every
Tuesday morning from 9.00am – 10.00am in the Orchard school hall (from November onwards).
Workshops are themed to support the Foundation Stage curriculum, and give parents the opportunity to work with their children. They are aimed at children aged 3-5 years, however you are welcome to bring younger children.
Parents do not need to come every week. Come along when you can, have a cup of tea/coffee, meet other parents, have fun with your child and find out more about helping your child at school. Everyone is welcome.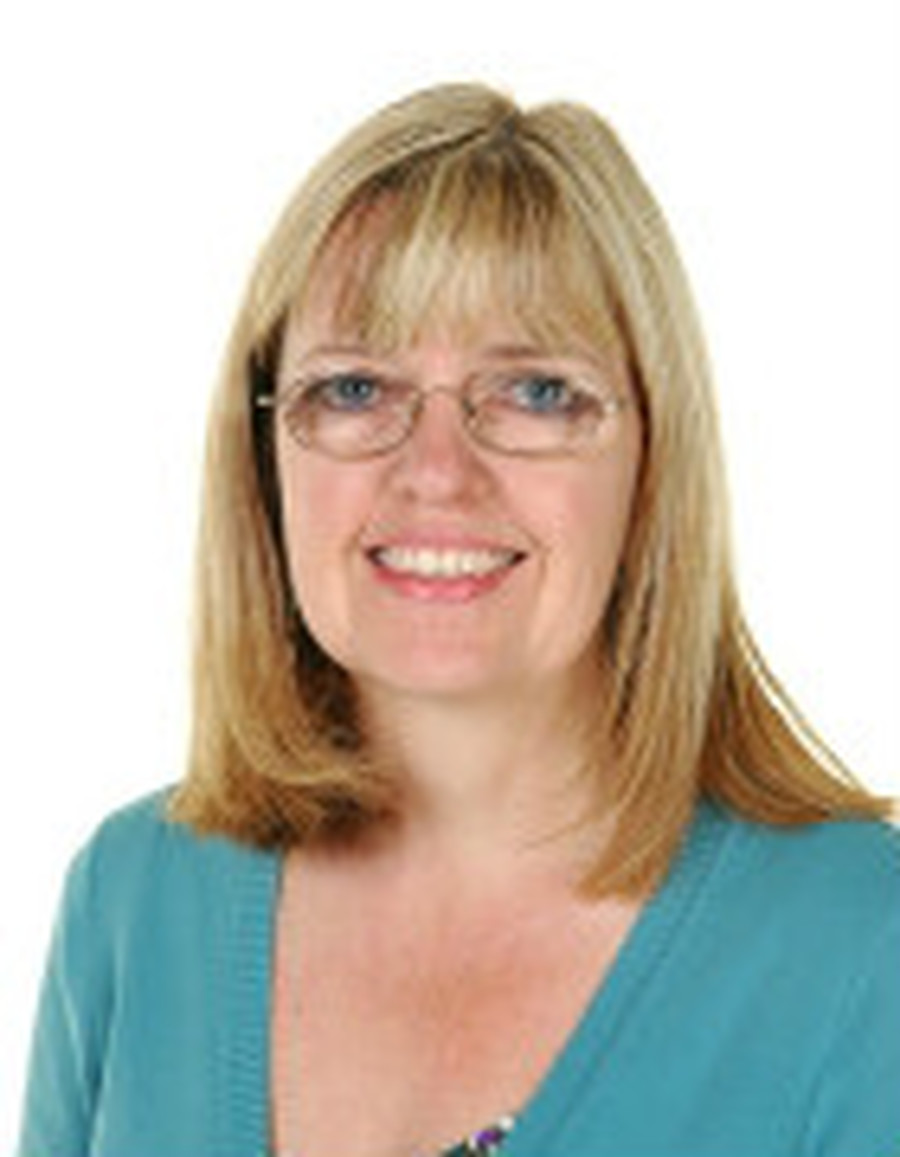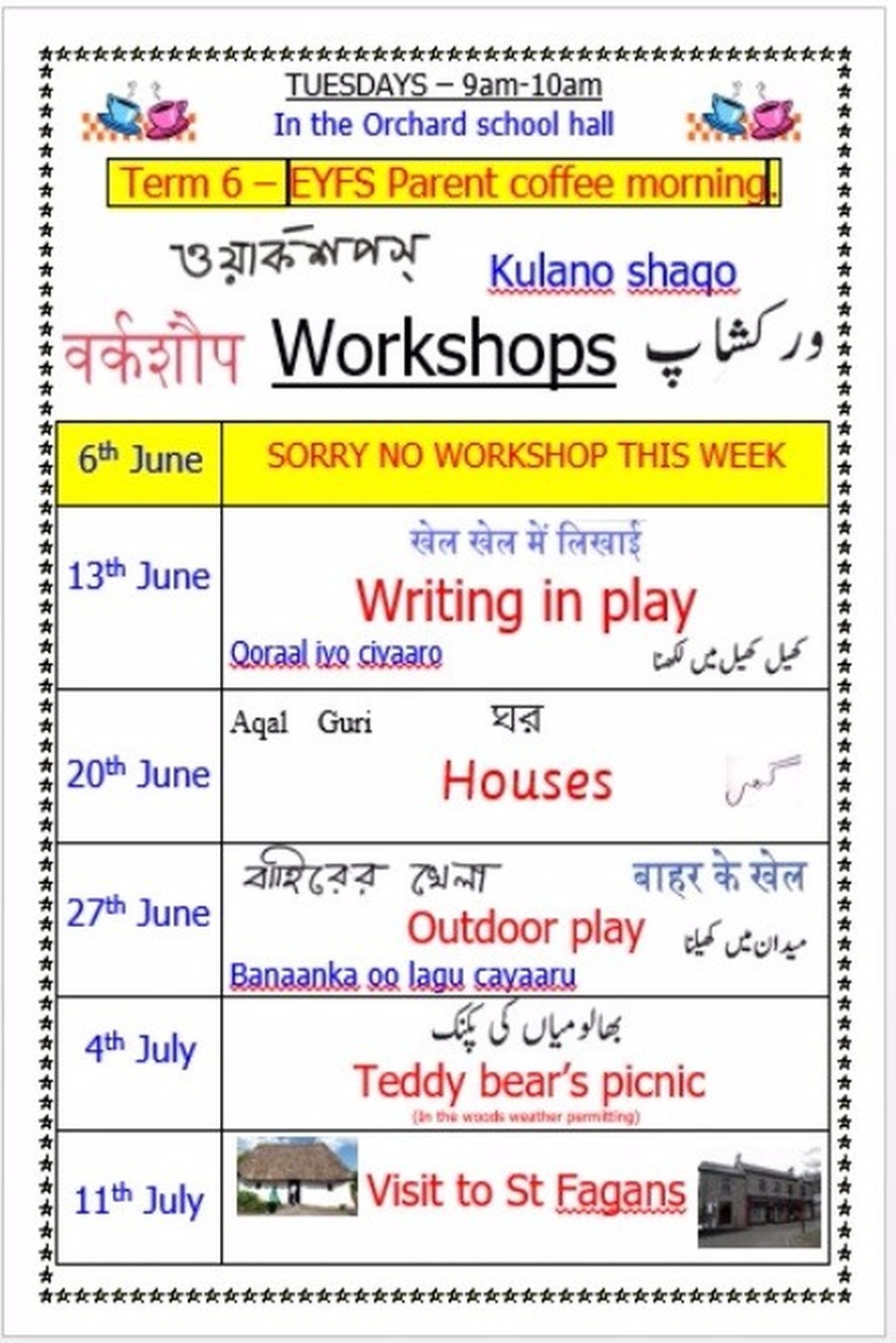 Outdoor play workshop 27-6-17
We were able to experience the school's wonderful all weather games area (MUGA) today. We practiced ball skills; throwing, kicking and catching, using a variety of different balls and bats. We also used hoops and beanbags, eggs and spoons, jumped in sacks, on hoppers and with skipping ropes.
Visit to St Fagans 11-7-17
We were very lucky with the weather for our visit to St Fagans today, the weather forecast said heavy rain all day, but fortunately we just had to dodge a few light showers and were even able to picnic outside.
During the last fifty years over forty original buildings from around Wales and from different historical periods have been re-erected in the 100-acre parkland, among them houses, a farm, a school, a chapel, a grocers shop, a bakery, a blacksmith's shop etc. We followed a map to find our way around the grounds and were able to go inside the buildings to see how they would have been furnished. Children saw an old school house, met farm animals, and watched delicious smelling bread being baked in the old bread ovens at the bakery.
St Fagans National History Museum, Cardiff. CF5 6XB Entry FREE Car park - £5 a day (in coins) Severn Bridge toll - £6.70 Phone: (029) 2057 3500 Directions – M4 to exit 33 onto A4232. Follow signs for a short way to a turning on the left.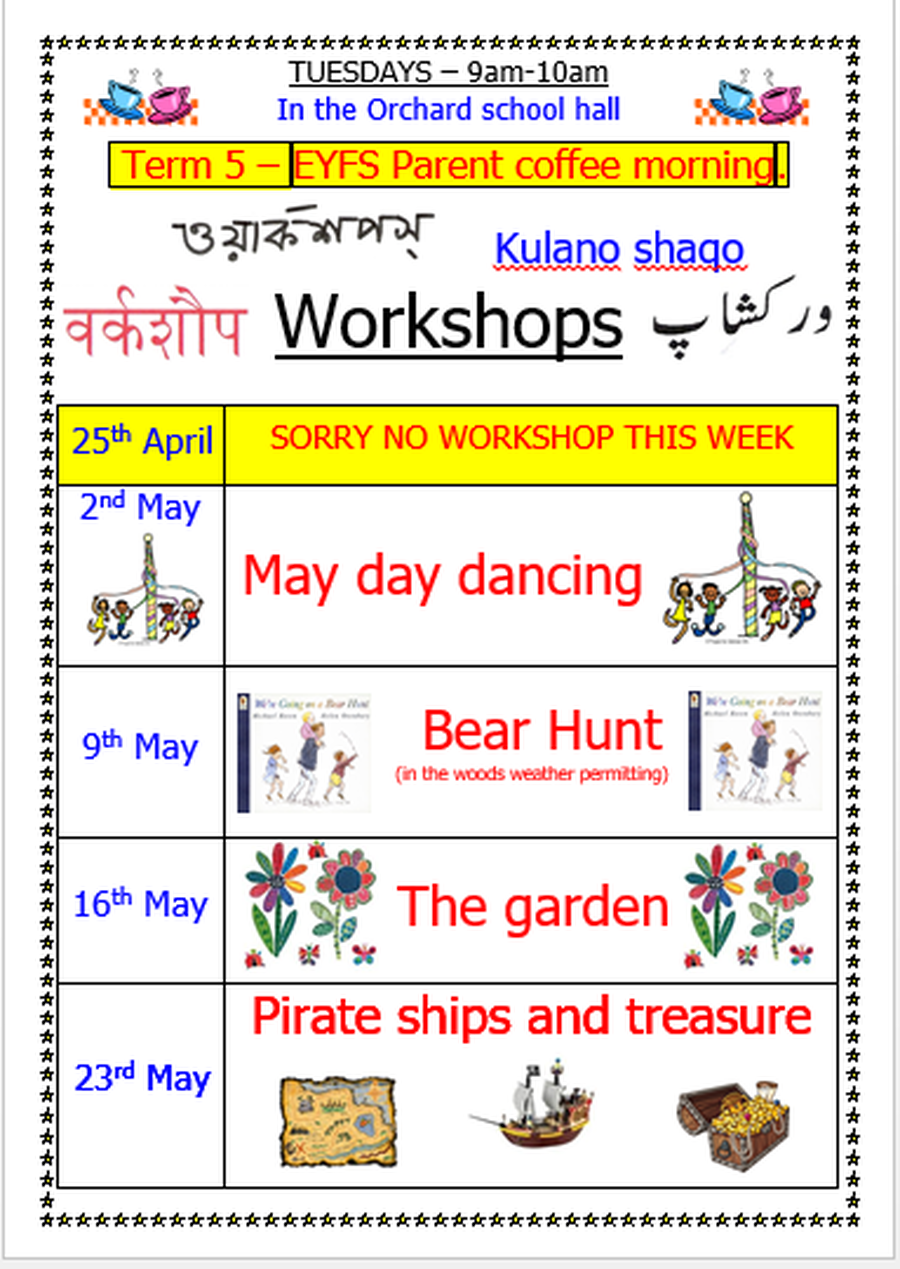 The Bear hunt workshop 9-5-17
We started today's workshop by watching a DVD of the story "We're going on a bear hunt" on the big screen in the hall. Then off we all went to May Park woods in search of the bear. Every child had a clipboard with pictures of things to find in the woods and with a sticky strip onto which they could fix as many different leaves as they could. Children followed a trail of bears with arrows on them, through the woods until they eventually found the bear's cave and went inside to meet the bear, who fortunately turned out to be very friendly!
*The woods are a wonderful resource for the school. Over 20 years ago every child in the school planted a tree, many with their parents. The trees have now matured into this wonderful woodland, used daily by children during lessons and for play.
Click below to watch the bear hunt video again on You Tube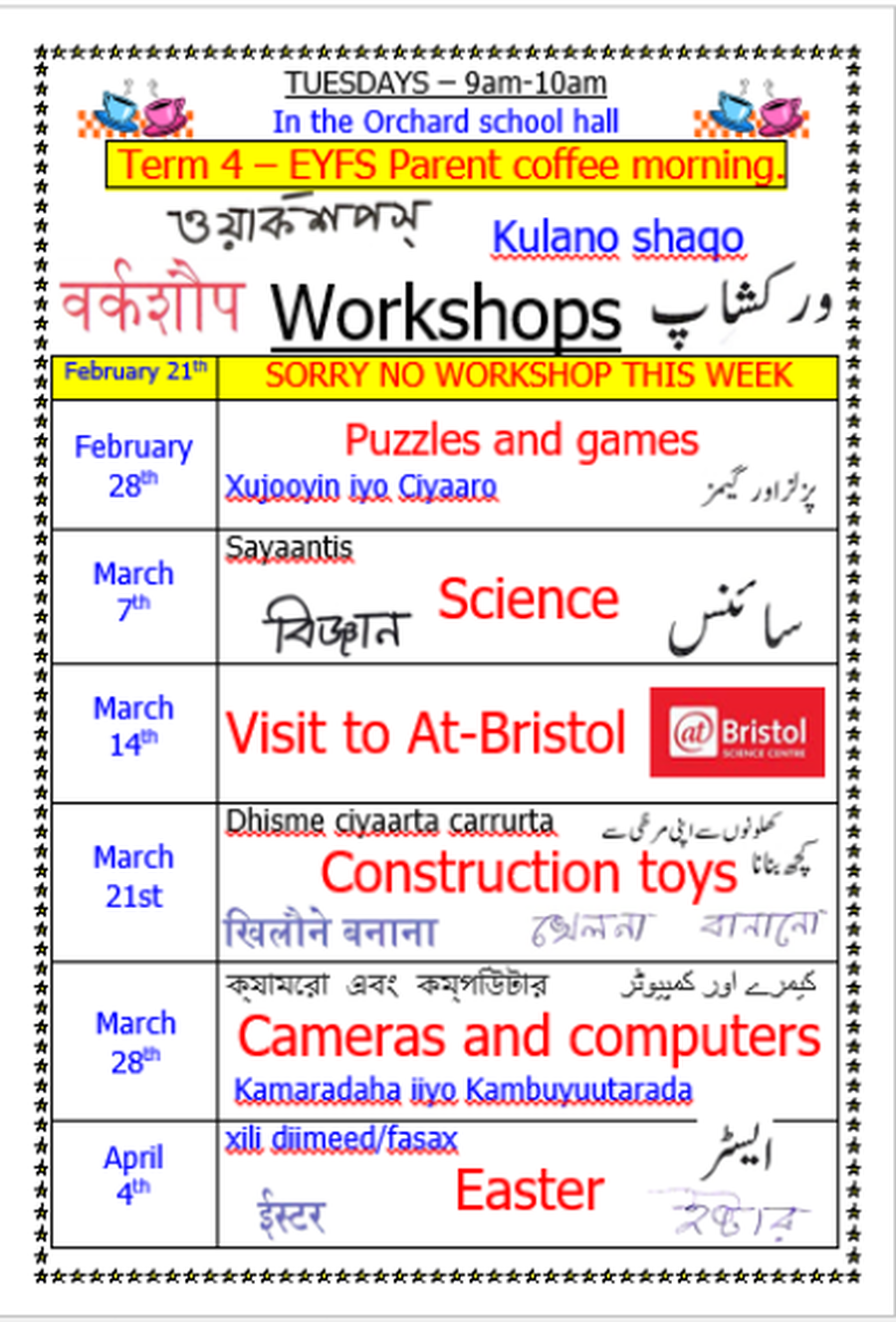 Our workshops this term support the whole school focus on STEM subjects. (Science, technology, engineering and maths).
You could hear squeals of excitement today, from both parents and children! We made volcanoes using bicarbonate of soda and vinegar and watched as they erupted. Some parents discussed trying it at home with white vinegar and colouring. We explored magnets and electric circuits. We explored air by blowing up balloons with pumps and letting them go, making paper planes etc. We used warm water to make holes in ice balloons. We also explored goop (a mixture of cornflour and water) and moon sand (a sand that you can mould in water).
Construction toys workshop 21-3-17
Look at our budding engineers! Children and parents used a variety of construction toys to create some amazing models today, some toys were familiar and some were new and challenging even for parents. Children also constructed models to take home using cardboard shapes, hole punches, split pins and treasury tags.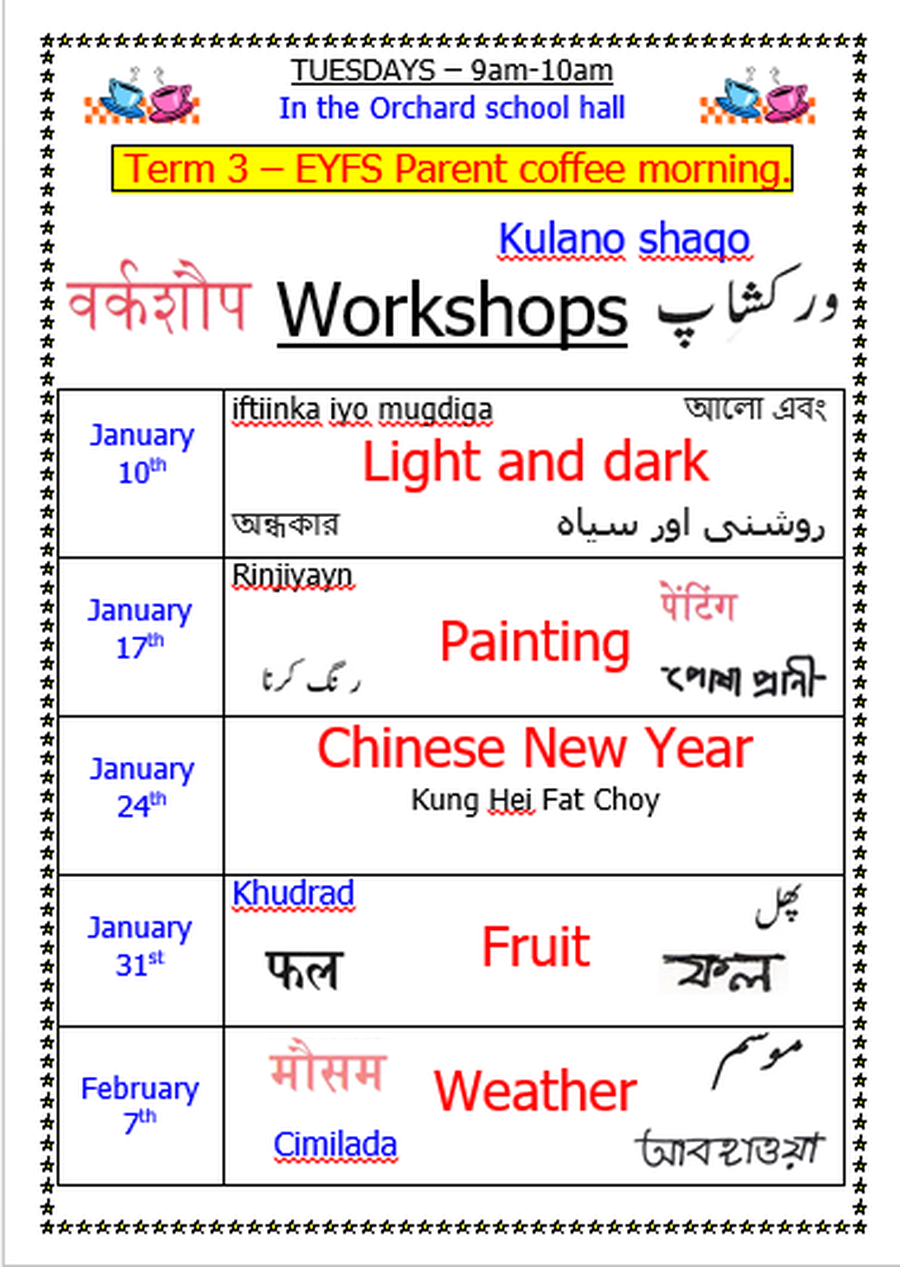 Chinese New Year Workshop 24-1-17
Today we learnt all about the Chinese New Year. As it is going to be the year of the rooster, we made rooster/cockerel masks, and junk roosters with feathers. We made dragon and rooster costumes, ate noodles with chopsticks, tried doing some Chinese writing, read books about the Chinese New Year and watched lion dancing on the big screen. There were so many amazing costumes that we ended the workshop with a parade around the room.
The theme for today's workshop was weather, something we experience a variety of at this time of year! The activities included; making a weather chart, making umbrellas and sunglasses, using balloon pumps or just blowing to make wind to blow leaves and windmills, and exploring ice. We made holes in ice balloons with turkey basters and warm water, and used hammers to get treasure out of blocks of ice.
Christmas workshop 6-12-16
After a break of two weeks while they fixed the roof of the year two classrooms, we returned this week with the final workshop for this term. Wrapping presents, Christmas playdough, making cards, paper chains and Christmas trees out of cardboard cones, Reading Christmas stories, playing with the nativity scene and other Christmas small world toys. What a busy Christmas workshop!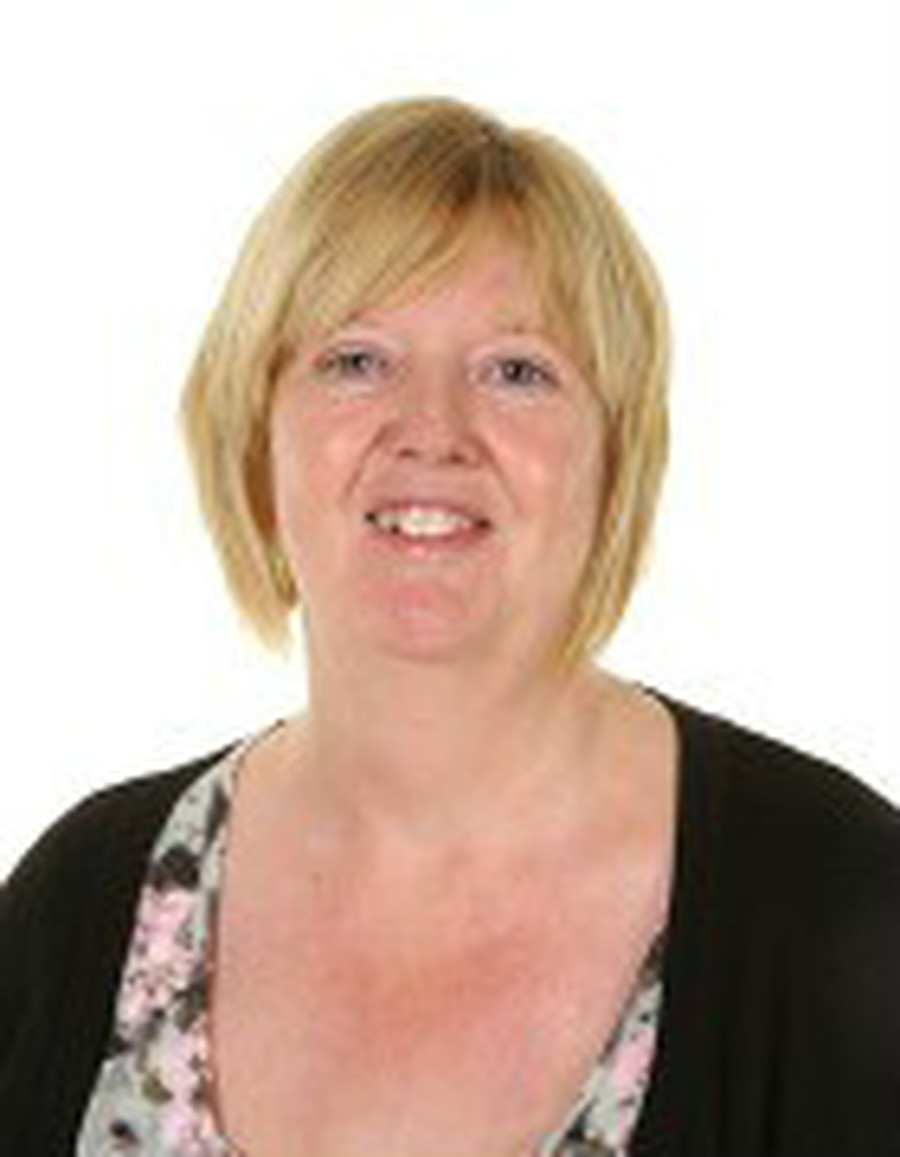 Writing in play workshop 13-6-17
There was a lot of role play as well as writing at today's workshop. Children wrote shopping lists and went shopping, they took phone messages, wrote letters and cards, played in the office and posted their letters at the post office. There was also a hospital with lots of medical notes being written.
In preparation for our visit to St Fagans on 11th July, where we will see lots of different houses and buildings, in today's workshop we designed and built our own houses. We used duplo bricks, cardboard boxes of every shape and size with various bits of junk and tape. We used sari's, giant pegs and tubes. Some houses children could even get inside their house!
Teddy bear's picnic 4-7-17
♫ ♪ ♫ ♪ If you go down in the woods today ♪ ♫ ♪ ♫ .....
You'd have seen some very happy children and parents having a teddy bear's picnic! (Including some visiting Chinese children and children from the Playhouse Nursery).
Children brought their teddy bear to school, they decorated a picnic bag, and made teddy shaped sandwiches to take to eat with teddy shaped crisps and biscuits. After the picnic the children were able to explore the woods, and try out the climbing structure.
*The woods are a wonderful resource for the school. Over 20 years ago every child in the school planted a tree, many with their parents. The trees have now matured into this wonderful woodland, used daily by children during lessons and for play.
As yesterday was May day, the theme of this week's workshop was May day dancing. We made ribbon shakers to dance with by tying ribbons onto sellotape rings and rings made out of strings. We danced with the ribbons, waving them as we danced. We did stick dancing in lines, tapping our sticks as we danced and even tapping each other's sticks. We danced around the Maypole, round and back and in and out, then finished our dance workshop by singing and dancing the hokey cokey.
Click below to watch us dancing around the maypole.
The Garden workshop 16-5-17
Today we dug in the soil, drew faces on pots and planting grass which will grow to be the hair.
We made beautiful tray gardens, made clay mini beasts to go in our gardens and painted pictures of bugs and flowers.
We played with plastic minibeasts, looked at non fiction books about minibeasts, and watched real snails with magnifying glasses.
Pirate ships and treasure chests workshop 23-5-17
It was such an exciting workshop today. We made beautiful jeweled treasure chests, and threaded coloured pasta to make necklaces (treasure). We made boats out of junk and tested them in water to see if they could float. We played with small world pirate ships, and there was lots of role play dressing up as pirates, making hats and eye patches to wear and pirate flags to wave. We also made treasure maps, remembering to write X marks the spot.
Tomorrow children and parents from the Nursery are going on a treasure hunt in May Park woods, watch out for the pirates!
Puzzles and games workshop 28-2-17
Today we practiced our maths skills, trying out lots of ready made games and puzzles, and making some of our own.
Children cut up cardboard pictures from well known stories to make their own puzzles, made dice and spinners with spots or numerals on and invented their own large board games.
Visit to @Bristol 14-3-17
This week we visited the @Bristol hands on science museum and had an amazing time as you can see. Some families even decided to stay longer and find their own way home as they were not ready to leave.
Cameras and computers workshop 28-3-17
Today we looked at some of the technology that we use in the Foundation stage classes. We explored games on the ipads, we used cameras to take photos around the room and of our friends and family. Some children even dressed up for their photos in a variety of dressing up clothes. We used remote controlled cars and programmable bee bots, and we used voice recording microphones and talking tins. We will have a slide show of all the photos taken by the children at the workshop next week.
What a delicious workshop! Children made chocolate nests, imagining that the chocolate was mud to stick the rice krispie "sticks" together. Each nest had mini eggs in it.
Children made beautiful Easter baskets to carry their nests home in and Easter cards for their friends and family. There was also orange and yellow playdough with Easter themed cutters, and Easter eggs and books to look at.
Light and dark workshop 10-1-17
We had great fun today exploring a dark den with torches, lamps and light toys. We found bats and nocturnal animal puppets in there too, and read books telling dark and night time tales.
We made diva lamps out of clay, made firework pictures using chalk on black paper. We made shadow puppets and stained glass pictures using black paper and cellophane which we put on the light box.
Painting workshop 17-1-17
Lots of beautiful coloured pictures were produced today, We had three large easels to paint at and tried out lots of different kinds of painting; Bubble painting, string painting, wax resist, water colours, flourescent paint and cotton buds, rollers, stampers, printing shapes and blocks etc.
Today's workshop was based around the story Handa's surprise written by Eileen Browne. We watched an animated version of the story on the big screen, then tasted fruits, chopping them up to make a fruit salad. We squeezed oranges to make juice to drink, practiced carrying plastic fruit in baskets on our heads, and wrote in speech bubbles on pictures from the story. There were copies of the book to read in a variety of our community languages, and also copies of another book about Handa called Handa's hen.
Click on the link below to watch the story again on You Tube
Today we made and decorated Easter baskets, then made chocolate nests to go inside, imagining that the rice krispies were sticks and the chocolate was mud. We also made cards and used Easter cutters with the orange and yellow playdough.
Happy Easter to all those celebrating Easter!
The very busy spider workshop 8-11-16
This was our first workshop for this school year and was very busy, 48 parents attended with their children!
As this week is book week in school, we chose the story The very busy spider by Eric Carle as our theme. We watched an animated version of the story on the big screen, then made junk spiders, woollen webs and cut out pictures of the very busy spider with velcro on the back, so the spider could stick on the web. We threaded pasta spiders and pumpkins, played with toy spiders, leaves and logs, and with farm animals and the farm duplo as there are farm animals in the story.
There were both fiction and non-fiction books about spiders to read, and also an opportunity to look at or buy books from the book fair.
We introduced Mrs Elly Randall, who leads English in the school. She explained that she is usually outside at the end of the day and always happy for parents to find her with any queries about reading and writing in school.
Today we explored colour in our workshop, sorting, threading, and making patterns, cutting, drawing, sticking and painting. We mixed our own colours using powder paint and water, did puzzles, made telescopes with coloured cellophane on the end to look through, and made colourful patterns on the light box. There were books about Elmer the patchwork elephant, and patchwork elephant pictures to paint.