PARKING PARTY TUESDAY 21ST NOV 8-9 AM
PARKING PARTY TUESDAY 21ST 8-9 AM. To encourage active transport and a healthy lifestyle, part of the road outside May Park will be CLOSED on Tuesday Morning. Make it a day to cycle, run, walk, hop, or scoot to school. Pick up a free (hopefully) treat for breakfast, make some noise and try out some bicycle powered activities. The teachers would really appreciate your support- if you think you can help- get in touch with the Office. Or make yourself known on the day. LEAVE EARLY & LEAVE YOUR CAR AT HOME!
DISCO DISCO DISCO UPDATE: A MASSIVE THANK YOU to all the parent volunteers-Dionne, Safina, Bec, Beckie, Natalie S, Charlie, Natalie B, Sarah, Sat, Anna, Daisy. Every single blown-up balloon and two-step wiggle and 'Woahh there' was essential and worth it to see the kids' faces. Special shout out to Disco Dad Jon the Rave for his heroic 5 hours of non-stop banging tunes. Also to Ben Igo for help with the ear-splitting kit. Every single teacher who joined in and especially those who stayed after school so that we could all have a party. Above and beyond the call of duty. High fives to Mr Fey- who worked his cotton socks off making it happen. Plus, we couldn't have done it without the support team. We messed up their rotas and kept them back late. Led from the front by Mrs Melhuish. We would LOVE to do it all again. You'll want to volunteer next time, won't you?

We haven't counted all the admission money yet- but we will have cleared several hundred pounds. We think it'll be spent on BOOKS. That sounds sensible, doesn't it? Maybe we'll keep some aside for more balloons.
READING VOLUNTEERS ALWAYS WANTED AT SCHOOL. Ask at the Office or speak to Mr Albery or Sadie PTA lady. Improve your skills and children's outcomes!
Date for your diaries- WEDNESDAY 13th DECEMBER- WINTER FAIR!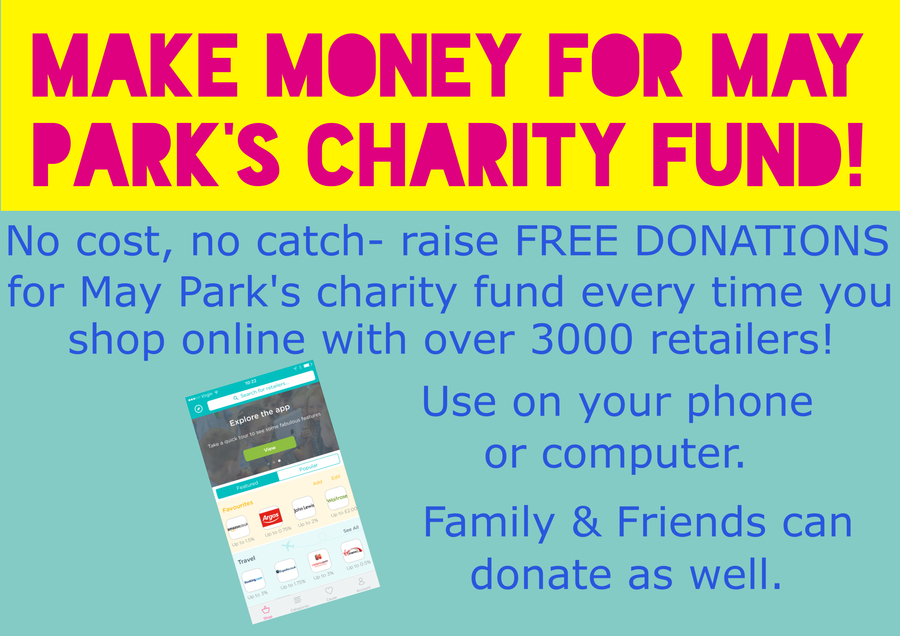 Hi Amazing May Parkers,
Did you know that whenever you buy anything online - from your weekly shop to your annual holiday - you could be collecting FREE DONATIONS for May Park's Charity?
There are over 3,000 shops and sites on board ready to make a donation, including Amazon, ASOS, ebay, thetrainline and Tesco's – it doesn't cost you a penny extra!
It's as easy as 1, 2, 3...
1. Head to https://www.easyfundraising.org.uk/causes/mayparkprimarypta/ and join for free.
2. Every time you shop online, go to easyfundraising first to find the site you want and start shopping.
3. After you've checked out, that retailer will make a donation to your good cause for no extra cost whatsoever!
There are no catches or hidden charges and May Park Primary PTA will be really grateful for your donations. Please share this with family and friends- anyone can support our school.
Thank you for your support, you absolute mega-stars!