Parents
Welcome parents to your section of the website!
Hopefully we can answer most of the questions that you have here, but feel free to contact the office in person or by phone if it doesn't.
Use the buttons below to navigate to other interesting parent sections of the site you wish to visit including the School Newsletters Page.
If you have any concerns or complaints and wish to speak to the most appropriate person in school, please look at the documents further down this page...
We also have an interesting link to follow from the NSPCC that could help bring up an important yet awkward discussion with your children about how their body belongs to them and they should tell an adult if they're upset or worried.
https://www.nspcc.org.uk/preventing-abuse/keeping-children-safe/underwear-rule/
Parent Support Resources for Self-Esteem
Dove also have resources to support parents in developing self-esteem in their children.
More information: https://www.dove.com/uk/dove-self-esteem-project/help-for-parents.html

Our safeguarding section contains more information about how we keep your children safe, anti-bullying information, youtube safety as well as containing support with discipline at home.
Terms 2,3 & 4 School Lunches: click to zoom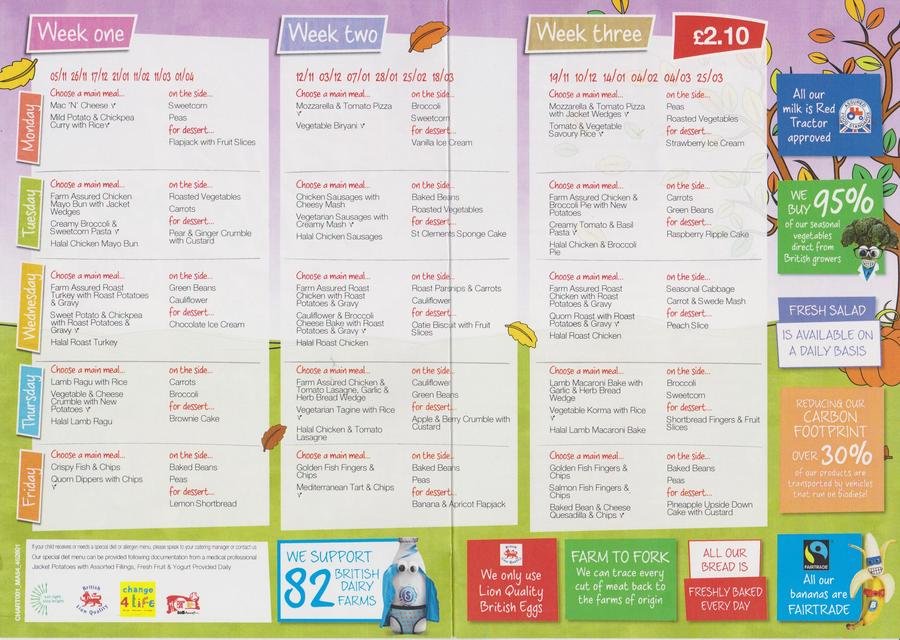 NEW MENU NEW MENU NEW MENU NEW MENU
Jigsaw PSHE
Once again we have been implementing the PSHE (Personal, Social and Health Education) Programme across our school called 'Jigsaw, the mindful approach to PSHE'.
The Summer Term units are about Relationships and Changing Me. The Changing Me Puzzle includes, in every year group, two or three lessons to help children understand the changes puberty brings and how human reproduction happens.
All of the presentations from the Changing Me parents' meetings as well as the overviews for each year groups are available to download below.
| Name | |
| --- | --- |
| RSE-Guide-for-Parents-and-Carers-leaflet-2018.pdf | Download |
| SRE Books for parents.pdf | Download |
| Year 1&2 SRE presentation for parents.ppt | Download |
| Year 3 SRE presentation for parents.ppt | Download |
| Year 4 SRE presentation for parents.ppt | Download |
| Year 5 SRE presentation for parents.ppt | Download |
| Year 6 SRE presentation for parents.ppt | Download |
| Year-1-Overviews.pdf | Download |
| Year-2-Overviews.pdf | Download |
| Year-3-Overviews.pdf | Download |
Parent Pay:
ParentPay is now used throughout the school. No more trying to find cash or the cheque book in the morning. Pay for school meals, trips and other items online. Ask the office for more information/
The following map was created by Year 5 and 6 student of May Park- walking from the gates of the school in different directions for exactly 5 minutes. Use it to help plan where to park in order to get a five minute walk to school and avoid the worst of the traffic!
A series of incidents that have begun outside the school hae led us to review our E-Safety policy and offer guidance to parents who are not comfortable with the children's access to the online world. We have a new page you can visit below, ask at the office for a paper copy of the quick guide or speak to a member of staff for any help you may require.
Admissions:
To find out about the schools admissions arrangements through Bristol City Council follow this link:
http://www.bristol.gov.uk/page/children-and-young-people/school-admissions
For Nursery applications please collect an application form from the school office or download from the link below. NOTE: All applications must be supported by an original birth certificate.